The Unaffordable Care Act
by InterMountain Christian News Volunteer Reporter Melissa Alvidrez
Source: http://www.imcnews.org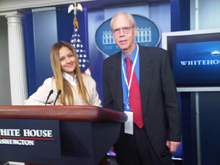 Pictured above left to right: Melissa Alvidrez and IMCNews publisher Dr. Harper
WASHINGTON, D.C. - If you live anywhere in the U.S.A. you have most likely already heard some of the discord surrounding the Affordable Care Act. All partisanship aside, the ACA has been troubled from the start. For example, on my second day (October 22, 2013) as part of the White House press pool, just a few weeks after its website launched, I was invited by a correspondent from a Mexican news agency to attend a closed meeting for Spanish media. I entered the Roosevelt Room, with the expectations of an inexperienced journalist witnessing history first hand, for the first time.
In this room, decorated with artwork attributed to the twenty-sixth president, was more drama surrounding the ACA. In addition to all of the mainstream media's restlessness in the Brady room, the administration was at work in the wing next door addressing other dysfunctions with the failed execution of their ACA.
Apparently, the many problems facing the English web pages for the uninsured nowhere nearly reflected the problems and issues related with the Spanish version of the website. As White House officials stated, they were aware of the fact that Spanish speakers (accounting for a large percentage of Americans without insurance) were not able to apply online. The Spanish website was experiencing far more issues than the English one, with applicants having to register via telephone application, if any were able to register at all.
More recently, on November 4, 2013, CBS News broke an online story revealing an official memo warning that the administration was losing control of Obamacare. According to Harvard Economics Professor and White House adviser, David Cutler, his heedings included, "I do not believe the relevant members of the administration understand the president's vision or have the capability to carry it out." Also, in this memo (sent three years ago) Cutler wrote that no one was in charge who had any experience in complex business start-ups, and expressed his concerns that basic regulations, technology and policy coordination would fail.
To add insult, the president has decided that tax payers will bail him out. To clean up all of this mess, instead of investing in more capable managers or subject matter experts, he recently awarded global public relations firm Porter Novelli a twenty million contract. I don't know much about this firm in particular. However, I do know that the public relations industry has become an arm to many organizations abroad and here at home, and not always with the public's best interests at heart. Some people call it Obamacare, others Healthcare Reform, but, with all of its drawbacks, no one today can honestly call it Affordable.